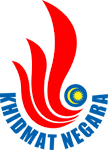 Yeah it's me!!
im finally back from ns on 7th jun 2008 xD
I had apply to delay my form 6 and continue my form 6 studies after completing NS coz i felt that it would be a waste since many activities will be moving on in the last few weeks..
However, bout 2/3 of the chinese had left the camp for their studies etc...
made the camp boring alot..zzz
But i didnt regret that i continue it..
=)
I was chosen to join the National Service or the malays known it as PLKN(Program Latihan Khidmat Negara) kumpulan 2 siri 5/2008 in Kem Sri Impian,sungai bakap...from 19/3/2008 to 7/6/2008...at 1st, i had only a friend that i knew in the camp who is Tze Jian(he left juz after a few weeks....disyaki kena dengue)....i met a few chung ling guys thr( Justin,Wei ling and Yuan Geng)after filling up forms and checking bags,we got our pillows, bedsheets and blankets,plates, sppon and fork etc....and after medical check up.. we got to our dorms...
Company:-
there are 4 companies: Alpha, Bravo, Charlie and
Delta
each company had 2 dorms for wira and 2 dorms for wirawati(eg. Alpha dorm 1 and 2,Bravo dorm 3 and 4 and so on)
(the wira dorms and wirawati dorms are separated of coz)
and so i was in the last company-Delta (dorm 7)
each company had a squad leader(malay) and a assistant squad leader (chinese/indian)..
the one who take care of all the wira is known as ketua wira(my chinese friend but he left for form 6) and for wirawati is ketua wirawati..
Penghulu is the one who take care of all wira and wirawati(actually his job was only counting the strength of each company everytime we lapor...)
Pelatih:
There were bout 240++ pelatih at 1st...80++ chinese,30++ indians, 1 singh and the rest were malays...
after 8th May the strength became only 162 who really completed NS on 6th june 2008...only bout 34 chinese left at the end..
Clothes:
2 set of baju and seluar sukan,white stokings, a PLKN cap and 1 pair of kasut sukan(for senaman pagi and riadah etc.)
2 set of baju and seluar kelas, PLKN belt, black stokings and 1 pair of kasut kelas(for kelas and when going out of the camp)
2 set of baju and seluar celoreng,inner celeoreng,grey stokings,a PLKN beret and 1 pair of spike boots (which is the PLKN uniform...for kawad,masuk hutan and when going for some outdoor activities)
others:
2 PLKN towel...shoe brush and kiwi
Activities:--
owhh
Daily Scheldule:-
6.00 sembahyang(muslim)
6.30 senaman pagi/aerobik/kawad
7.30 MAKAN pagi
8.30 Kelas(CB and kenegaraan)
10.30 MINUM pagi
11.00 Kelas
12.30 MAKAN petang
1.30 sembahyang
2.30 latihan fizikal(for modul fizikal)
4.30 MINUM petang
5.30 Riadah
6.30 MAKAN malam
7.30 sembahyang
9.00 sembahyang
10.30 MINUM malam
11.00 Roll call
this is briefly everyday activites for working days..(monday to friday)
for saturday we "work" half day and we got activities in the morning...
sometimes gotong royong...sometimes masuk hutan...
and for sunday...it's holiday inside the camp....
While for Buddha,we had kelas kerohanian about buddha and di zi gui on thursday and friday night in the camp, and for some of the sundays we got to go to a temple somewhere in nibong tebal by bus..
And for Christian,they went to church everyday sunday morning..
and yeah we eat 6 times a day....no worries for food...
(chicken for lunch and fish for dinner usually)
what type of curry oso got...red de...orange de...yellow de...green de...dark brown de.....etc...@_@
Jiak ga Lu Gia!!!...
in the first few days...
we need to make our own company songs and flags etc
which is known as Kontrak Kita Janji(KKJ)...
after that we started our modules..
Modul Pembinaan Karakter:
we were divided in to 3 class, this class was quite boring sometimes but sometimes it was quite fun..played a lot of games like dancing and fooling around and did some weird activities...i learned how to juggle...u know...like what we see in the circus..the clown with 3 balls and juggle 1 2 3 1 2 3...haha...
seriusly i felt that this class makes me a bit more confident to talk in front of ppl and be myself in front of everyone....=)
Modul Khidmat Komuniti:
We had only 2 class of this...the 1st one we were divided into 3 classes...i was in the 2nd class and we went to a sports complex...at 1st i tot we would had chance to play the rock climbings and other activities there...but in the end we were asked to paint the gatedoors and the dividers beside the road....what the @#$%...but we did a good job lah in the end =)

Modul Kenegaraan
:
owh...very boring class...there were only like 20~30 ppl in a class...
we learned bout some politics things and all bout Malaysia...
played some games...some were okay and some were really boring...
there was once when we were playing something like "following the leader" game wif our eyes closed...... i was kacau-ed by the "pengacau-pengacau" and they brought me to the surau....Hassan even kissed the tiang lampu and said "i love you" to it(the pengacau asked him to...)...LOL...kena laughed by all of the classmates...haha...=.=
and yeah....we used a lot of sampah for this class....doing robots and other stuffs out of it...=)....
Modul Fizikal :
~yeahhh!
Kawad Kaki:
did this a lot in the last month of national service....it is a bit different from what i had learned in KRS..We got silver medal for this competition...lose to Bravo the champs by 0.5 marks...aiks..
Kraf Hutan :
we were taught some surviving skills in hutan such as what plants or leaves that we can eat...and the usage of this plants as traditional medicine....learned to make a tent..learned to cook sardine and white rice using stoves and candles..
Peta dan Kompas:
had a few boring teori class...reading bearings and stuffs like that...almost like what we learned in form 3 geografi...and then we got the chance to the the practical part....each company was given different bearings and we had to follow the bearing to reach the next checkpoint and the jurulatih there will gave us another bearing....i mean
FOLLOW THE BEARING
...LOL...we need to walk straight and straight and straight over all the obstacles....walk straight into the forest by making way using parang..... climbing over or crawling under the fence...jumped and ran across rivers and one-person bridge...climbed up and down the hills etc...very exhausted but very cool..=)
Pertolongan cemas
: we had this class once...about first aid....stuffs like bandages and CPR...
Tempur tanpa Senjata (TTS)
: we had this class twice....we learned "kung fu" (punches and kicks) in this class but i think it was more like doing senaman pagi..lol....
Sukan Air
: kayak and rakit....we played this a lot for the 1st month but then it was canceled(for whole Malaysia i guess) because of skin sensitive among the trainees...
King's Finger
: a tall pole where we need to place tires in it WITHOUT touching the pole...it was not easy as you thought...it needs a lot of co-operation and we need to step on each others shoulders to do this...
Tali Rendah
:a swing like we saw in the circus but it is low...i think thats why it was named so...

Tali Tinggi:
consist of tali tinggi(picture below), flying fox(i did this with another friend hugging me... lol) and the last one.... erm.....i forget what it's name...it is like what the SWAT teams did in the movies when they were jumping down from the top of the building to reach d bottom using ropes....get it?? o_O the last two are build somewhere in the kampung forest just beside the kembara halangan place..so everytime we need to walk until there to play....
Sukan Kreativiti:
We had this competition between companies...the guys did the A-frame...which is an A-shaped stuff made by 3 piece of long woods..one will need to climb on the frame and the other 12 ppl will nid to support and moved the frame to the finish line using 3 ropes tied on the frame by ourselves....require alot of teamwork.....
the girls did something like filling up the bottles using a bottle which was cut half and with 10 ropes tied on it..require teamwork and patient...
Kembara Halangan:
This one was fun...we had competition for this too(we lost it coz of wirawati T_T)...we need to get pass 9 obstacles(for wira....8 for wirawati) to finish it....
1. a small barrier that we need to jump or climb over it
2. Swinging Bridge...a bridge that swings on a pool of water...balance yourself and run!!!
3. 6 feet wall...simple one...climb over it...thats all
4. a narrow wall up to the top that we need to balance ourself and walk up...there are gaps between each narrow wall..
5. Monkey Rac.....Bars like we see in the playgrounds on a pool of water...we need to made our way to the other side of the pool using the bars...many ppl failed this task...
6. Tarzan Swing...ooowhh wooo owhhh wooo owhhhh~!!! Grab the rope and swing over a small pool...many girls didn't have the potential to be Tarzan ....ended up all wet... haha...
7. Terowong....simple one...like what we see in playgrounds
8. Some wires that we need to climbed beneath it...i got my ass stuck on the wire when playing this...=_=
9. 12 feet wall..this requires strength and teamwork to finish this task fast..support your teammates up the wall and also supported by the others up the wall...
Ekspedisi Wirajaya:
at 1st i thought we had a chance to stay a night in the hutan...but we ended up staying on the footbal field just beside the camp...and that's not all....we were awaken by the teacher 12.30am in the midnight and we were asked to pack up and returned to the camp...lol...
we depart on 9am morning that day and played the bearing game again until we reached our last checkpoint by bout 12pm...
Then we were given a bag of rice,a tin of sardines and a tin of curry chicken for lunch and also we were given rice and sardines again for tea break....yeah we need to cook ourselves and some more using river water...we found and used pandan leaves as plates and ate using hands....mai siao siao....it turned out to be quite delicious leh!!! haha...since there were no surau...muslim had their sembahyang on a matress in the woods...we had the chances to see how they sembahyang.....haha...
In the night...about 24 of us among all the guys were chosen to play a game named as "Kelapa Emas"...we need to find some jurulatih in the dark forest(we were asked to close all the torchlight) and find clues to the next jurulatih and finally will lead us to the location of the kelapa mas....we were asked to do stupid things and even handed up all our snacks and Maggi noodles to them to get the clues...=.= we finished the game easily....and ohya...we were escort by about like 10+++ jurulatih when playing this...for our safety i guess...lol...
Pengendalian Senjata M-16:
this was fun and i think that would be my 1st and last time shooting using M-16 with real bullets in it...before the shooting training...we were taught how to open up the thing and put up all the things back up again and also we learned how to reload.....
the shooting experience was awesome....you can feel the bullets forcing out from the M-16 when you shoot and you can feel the M-16 hitting on your chest...and the sound when shooting was way cool~!!(poom....shwwuuuuuuuuu)
my shooting sucks.....i get only 27 out of 100...
HEY!!! it's already very good compared to those who get eggs out of 100....haha
too bad all the jurulatih didnt bring any camera when we were there...=(
Other Activities??
Ceramah:
zzz
We had a lot of ceramah and taklimat from the outsiders such as taklimat bout education ....taklimat bout pengurusan wang....taklimat from polices bout jenayah.....taklimat and games from pengerakan anti-dadah(this class is quite fun...got bola jaring...sepak takraw,flour and sweets game and biting the apple competition...)and we even had ceramah from pencegahan AIDS...where we were taught how to wear a condom in the dewan makan....LOL....most ceramah were boring but some are useful though..
and ohya we had a taklimat or i should say Free Give from Celcom....haha...
all of us get a sim card for free xD
Kelas Integrasi and Malam Kebudayaan:
we got teachers from outside...the class was mainly bout different culture and religion in malaysia...We had chance to perform on the stage using our culture as the theme....some of them performed dramas and some performed dances such as malay dance, indian dance and for chinese....some perform Tarian Singa and Tarian Kipas etc..some perform Hip-Hop which is totally out of theme....lol......for my class....we chinese perform the "chinese-style" wedding...haha.. to make it special we had a sex change for the bride and bridegroom...haha....alot of funny things happened that night....and my class got 2nd place for the performance....haha...totally awesome and wonderful....
Malam Citra Puisi:
we were divided into 4 teams...we need to perform a sajak or syair or gurindam that the teachers prepared by doing drama....lol...and this was my first time wearing baju melayu with kain pelekat and songkok....haha...my character in the drama??? a DAD with his wife pregnant lol.....everyone congratz me after that....~__~
Camp Open Day for families (20/4/2008)
: our parents had chance to visit our camp and had a look in our dorms....we had kayak performance and tali tinggi performance that day....
Labour Day Special/Open day for trainers' family (1/5/2008)
: we had a 7km Merentas Desa competition in the morning...ran around kampung , farms and woods....unlike those run i joined before... after that we had rakit competition....and guess what...my company DELTA won it(of coz i joined the team!!) xD got a hamper for that...
other than that we had bowling coconut competition(90% depends on your luck) and darts competition...very fun...
Kempen Derma Darah:
i volunteered myself to donate my blood for the community~!!! (aisehh~!!!) since i wanted to had a try (am i weird???haha...)...Only bout like 30 out of 160 of us who wanted to derma... and among the 30...only 10 was approved by the doctor to donate....=.=....and my blood was rejected since i was suffering in a flu that time...too bad...=(
so...What Do We Do When Free Time???:
No worries...haha...most of the times we played table tennis and sometimes we played with jurulatih during weekends or when we were free...we played a lot of this and i found myself improved a lot in this sport( i guess so...haha)...
sometimes we played carrum ( malays were good in this) or watch newspaper or TV in bilik rehat......
at night we could pay a visit to the "starbucks" and "7-11" of Kem Sri Impian..lol...there were Astro there so the cafe will be full of guys every saturday and sunday..know what i mean???football of coz.....and ohya...the nasi lemak there....rm1.50 wif ikan bilis and a fried egg..memang ho jiak! haha..
Any Things to Say???:
ERm.....

This PLKN gave me quite a lot of new experience and cool memories that i wouldn't have had if i didn't join it...the first few weeks were really boring because there were really nothing much to do except sleeping and eating..sleeping and eating.........(times 6)....
After that our timetable was full of activities...Although not all the activities were interesting(some really bored us a lot...X_X)...but some of them were really gave us experience that we couldn't buy.....such as shooting using M-16 with bullets...i think this would be once in a life time(unless if you are going to be an army....lol)...
And as a city boy i never live in" kampung-style"..i never drink, cook and wash using river water...i never took leaves and plants as snacks(owhh...)...i never went in to the woods full of semak-samun and trees and need to make our own way using parang...for those kampung guys...it seems like an easy job for them....
Living there makes me more self-dependent and responsible...everyday we need to wake up early in the morning to do senaman pagi...and after that we need to do our layout for our beds everyday or else we will kena....i need to wash my clothes and underwears myself(i brought many of these since im lazy to wash...haha)..
Going there made me much more appreciate with what i had...
we were really the lucky ones compared to the others...
It's like learning without books...=)
The training wasnt so bad as i thought ....all the jurulatih in my camp were very friendly and they hang out with all the pelatih really well...the jurulatih wont even asked you to pump more than 15 times when we did something wrong...Some of them were really experienced(mostly ex-tentera) and share a lot of their experience with us especially our Delta jurulatih,cikgu Ali(terhegeh-hegeh)... and for the class teacher...some really did a good job lah...especially the teachers in CB class....we had a great time together...=) overall i think that all the jurulatih and teachers did a not bad job...=)
Last but not least...as a chinese school students..i never had a chance to had so many friends and even stay in a same dorm with friends of different races and religion >> malays and indians...it made me changes my opinion bout races...we shouldn't labeled people by their religion...not all the malays and indians were bad...although some of them really very Kiam Pak la.... what we headache about were those who always cari pasal and there was once the police even came...actually it was juz a small matter,someone played with the pemadam api in the toilet inmiddle of the night but no one confess....and everytime this kinda things happened...all of the wira kena...=.=
Other than that the rest are ok la....days there were very peaceful....some were really friendly and helped me out a lot...especially my dormmates...they treated me very well and Shaymi from my dorm taught me how to play guitar(i learn a bit bit only)...some of them were really talented in guitar... Ruben in my dorm teach me a lot of his language..mostly rude ones...haha...they even though us how to eat using hands...We had a chance to meet different with kinds of people with different personality and background there...
And I also had a chance to wear baju melayu with songkok for the 1st time in my life...haha..
The camp had organized different kind of activities and competition which really tested our team-spirit and co-operation...
Making us to live among different races is the main target of PLKN i guess..We could learn ways to communicate and handle with people of other races and we could learn more bout other's culture....i think this is quite important as a Malaysian who live in a country with different races...
Overall, PLKN wasn't as bad as i think, it's a life time experience and I enjoy it very much...you'll need to join it and experience it to understand it..=) the goverment used RM12billion per year for this program so if you receive a letter that is written "Tahniah...anda telah dipilih untuk menyertai latihan PLKN" Really Tahniah!!! and do join it and have fun!!! =)
That's All~!!
=) xD
*sorry for the broken english...
*more photos will be uploaded....=)
Sometimes....life there was EXTREMELY BORING~!!!!
but with friends...
we shared fun times...hard times...and everything together.....
time seems to pass really really fast...
and 6th June had finally reached..
some of the girls cried xD
and finally.......